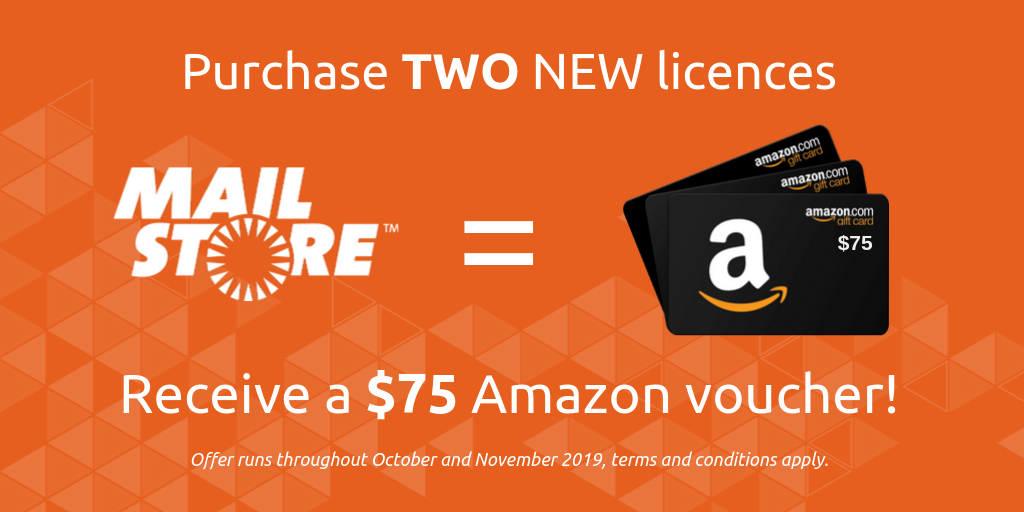 Starting the 1st of October, we're giving you yet another great reason to speak to your customers about the many benefits of email archiving.
Simply resell two or more NEW MailStore licences during October and November and provided you're among the first 15 resellers to do so, we'll send you a $75 Amazon voucher.
Here are a couple of ideas for potential sales opportunities…
Are your customers using Office 365?
A common misconception among Office 365 users is that they no longer need to be concerned about email backups and archiving because their email is hosted in the cloud by Microsoft.
However, customers really need to be aware that services of this type use a shared responsibility model when it comes to customer data. While Microsoft's hosting infrastructure certainly protects against data loss due to systemic failures, there is still a burden on the customer to protect against loss of data due to accidental or malicious user actions and administrative errors.
This is where MailStore can help – by maintaining a complete, secure archive of all emails passing through Office 365, and by controlling and auditing access to the archive, the company can protect itself against user activities that could cause the unrecoverable loss of important emails – a problem which may go unnoticed until it's too late.
Do you have Exchange customers with overloaded mailboxes?
Archiving is a great way to breathe new life into existing Exchange servers struggling under the weight of those massive mailboxes that senior management are prone to having – and the beauty of using MailStore is that it doesn't limit what's available to the user or lock it away behind an administrative barrier.
Additionally, some Exchange customers will now be approaching the end of support date for Exchange 2010. Many of them may be looking to switch to a hosted service such as Office 365 and consequently will probably have a migration headache looming ahead of them.
Migrating a massive Exchange database can be real chore so it's worth keeping in mind that archiving that data into MailStore is a great way to slim down the database size ahead of a migration allowing them to only move across the more recent emails whilst still providing users with quick and easy access to the older emails.
Terms and conditions of promotion
This promotion is only available to members of C&C Software Solutions Reseller Program;
Only NEW MailStore license sales count;
License keys must be resold and activated during October and November 2019 to be applicable;
Offer is limited to one voucher per Partner and to the first 15 Partners;
Amazon vouchers will be sent out via email in the first week of December.